Print-Making an Impression, Hess and Lyet Galleries, Elizabethtown College, Oct. 1, 2020—Feb 19, 2021
Curator and Gallery Director: Milt Friedly, Professor of Art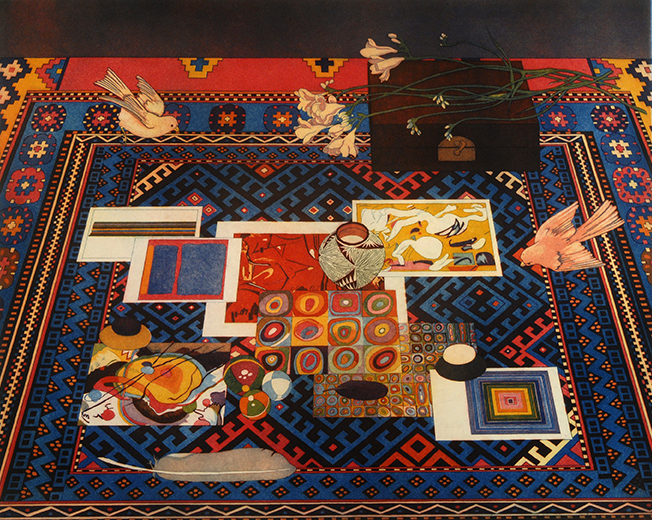 Katja Oxman
American, German Descent b. 1942
Katja Oxman was born in Munich in 1942 and has childhood memories of the horrors of World War II. Her father Mischa Protassowsky, a White Russian, fled his homeland after fighting against the Bolsheviks in the revolution. Katja's mother Gretl was German, and her marriage to a Russian resulted in the loss of her citizenship, which placed the family in a dangerous position in Nazi Germany. The Protassowskys immigrated to the United States in 1952 and settled in Rose Valley, an old suburb of Philadelphia. They instilled a love of classical music, literature, and poetry in Katja and her sister Tanja. 1
Oxman began her education in art at the venerable Pennsylvania Academy of Fine Arts, which assured her a solid formal foundation. She was attracted to printmaking very early and began making large woodcuts while at the Academy. After completing her studies she returned to Munich and studied for a year at Die Akademie der bildenden Kunst. From there she applied to the Royal College in London and was one of fifteen students accepted in the School of Graphics graduate program. It was at the Royal College that she took up etching, a medium that has proven to be extremely compatible with both her formal inclinations and esthetic sensibility. 2
Katja Oxman's graphics are among the most seductive and chromatically lush works in contemporary printmaking. While she never allows the technical aspect to overwhelm her subject, her aquatints are an exceptionally remarkable achievement. 3
1 The background material on Katja Oxman is based on an interview by the author and the article by Janet T. Margquardt-Cherry, Katja Oxman: Working in the Tradition of the Woman Artist (Women's Art Journal, Spring/ Summer, 1993
2 Quoted in Milton Rugoff, et al, The Britannica Encyclopedia of American Art (New York, Chanticleer Press, n.d.) p. 126
3 The technical information is based on an interview with the artist, Laurie S. Hurwitz, Controlling Colors in Aquatint Etchings (American Artist, 19--) pp. 46 –81, and Herbert Cooper, Conversations with Artists: Katja Oxman (The Washington Print Club Quarterly, Winter 1993-94) pp. 13-14.
Pictured: Acre For A Bird To Choose, 2000, Color Aquatint, 24 x 30 inches