Patterns of Inspiration, Huntington Museum of Art, Feb. 23—April 7, 2019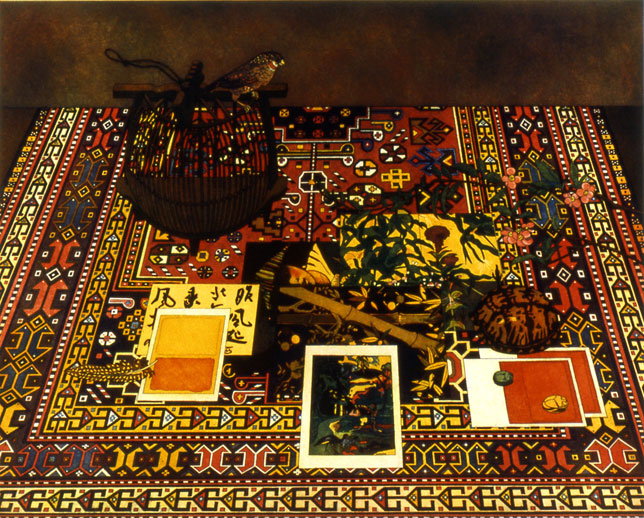 For centuries, the colorful carpets that have been woven in Central Asia and
the Near East have been featured in paintings by artists from western
cultures. The most well-known examples are those by European painters such
as Hans Holbein, Giovanni Bellini, Hans Memling and Jan van Eyck, whose
depictions of the rugs are often important records of early weaving styles.
While the Huntington Museum of Art does not have the good fortune to own
any of those iconic paintings, it does have several artworks that feature rugs
from a variety of world cultures. The earliest of these is a still-life painting
from the late 18th century by the Italian artist Bartolommeo Bettera, which
features a prominently displayed rug that serves as a patterned foundation for
a magnificent display of flowers.
Other works in the collection that utilize the complex patterns of woven
textiles range from a painting by the Spanish Orientalist painter Clemint
Pujol Gustavino that features a woman seated on a rug in an elaborate Middle
Eastern courtyard to a contemporary photographic portrait by Bonnie
Schiffman of the painter Richard Diebenkorn, who sits perched in a chair
atop an Oriental rug with his pet beagle at his side.
Five aquatints by the artist Katja Oxman add another group of worksfrom the
collection that feature the intricate weavings of craftsmen from around the
globe. Oxman pictures patterned textiles underneath collections of personal
objects such as postcards, pet birds, houseplants, bowls of fruit, watches,
books, and feathers. Her recent gifts to HMA will be shown for the first time
in this exhibition.
Accompanying the group of prints, paintings and photographs in the
exhibition will be a selection of Islamic prayer rugs from the museum's
collection. These rugs were among the featured works in the museum's
collection when it opened in 1952, a gift from museum founder Herbert
Fitzpatrick. According to his associate Eddie Kyle, Fitzpatrick would "go to
the ends of the earth" to pursue his passion for collecting rugs. His gift
includes many fine examples from Turkey and the adjoining regions of the
Caucasus, along with a small selection of Turkoman tribal rugs.

Presented with support from The Isabelle Gwynn and Robert Daine Exhibition Endowment.
This program is presented with financial assistance from the West Virginia Department of Arts, Culture and History, and the National Endowment for the Arts, with approval from the West Virginia Commission on the Arts.